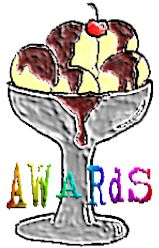 Since we started this site, we have received recognition for our efforts. For instance, one of our writers was actually mauled while shopping at Pens 'R' Us. In addition, we have received numerous awards (actually, none) for The Daily Journal. Below are some of these awards. We love awards and reviews. Please send them our way. We will print just about anything as we have no shame when it comes to promoting ourselves. Send us your glaring or even "non-dazzling" recommendations. Send them to dailyjournal@mailcity.com.
BIG NEWS: We are now linked from www.amused.com in their Linkapalooza section. This is a big deal for us since we all had to work at the webmaster's home cleaning toilets for a month!
"I enjoyed it and I'm not sure why."
--Ty Tabor, King's X
(Actually, he said this about a book that Jason did, but it looks nice here. Feel free to use this quote wherever you need it. Kids, you could use this for the front of your term papers. Think about how much you'd impress your teachers with a semi-favorable one-line review from an obscure rock star on the front of the report that counts for 75% of your grade! Investors, use this for your portfolios!
"Enjoyed your site."
--Robert Darden, Senior Editor of The Door
"Whenever I feel my life is meaningless, I come to this favorite site to peruse the bemusements of it's creators. It never fails to pick me up, remind me that there is a God, and that there are at least two other guys He's out to get even more than me."
--Dan Piraro, Creator of the Bizarro syndicated cartoon strip. Author of numerous Bizarro books including Among the Savages and Three Cheers for Nuclear Waste (due in the fall...ok, I made that up)
(Thanks Dan!)
"I laughed so hard my gizzard popped out. I almost wish the neighbors had seen me...These three "humans", for lack of a better word, are what Belinda calls 'freaks of nature.'... This one's a Must-See. We giggled 'til we soiled our trousers."
--The friendly folks at Midwest Online
"...without dazzling recommendations."
--Dan Ellsworth, Some guy that looked at the site for us.
(Thanks?)
---






(5 out of 5 chickens from Midwest Online...their best ranking!)